New Patient Center
Imperial Family Chiropractic's open-concept space is warm and inviting. All ages will feel at home in our relaxing and comfortable environment. Dr. Cory and Dr. Mel look forward to meeting you!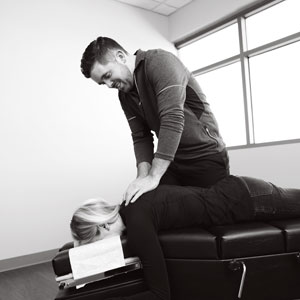 The First Visit
This appointment takes about 45 minutes. We'll have you fill out paperwork when you arrive. Your chiropractor will then talk to you about your health history. Then you'll have pictures taken of your posture to evaluate your spinal health as well as a full chiropractic evaluation. Once we've determined that your condition can benefit from what we do, we'll give you your first chiropractic adjustment.
The Second Visit
This appointment takes about 30 minutes. Your chiropractor will meet with you to go over their findings from your previous visit. They'll prescribe a treatment plan that's specific to you and your concerns, then give you another chiropractic adjustment. We'll also go through all financing options with you.
Regular Visits

As you continue care, your visits take just 5-15 minutes. Some of our patients choose to keep seeing us because they feel the incredible difference chiropractic care makes in their life. We respect your choice, and you are welcome to use chiropractic care as it best fits into your lifestyle.
Contact us today to find out what we can do for you! Same-day appointments are available.
---
Imperial Family Chiropractic | (651) 478-6988